About the tour
No registration
Sweden Offroad Tour is an annual offroad tour were precipitants can join for day, a few days or the whole tour without any pre registration. Check in and payment is at 9:00 AM and after the drivers meeting you can enjoy six hours driving between 10:00 AM -16:00 PM.
Vehicles
SOT welcomes all drivers from beginners to experts with all brands of 4×4 cars and pickups, ATV (not 2WD QUAD) and UTV with a maximun weight of 5 tons. The cars must be: 4×4, terrain capable, carry a fire extinguisher and be insured.
Fees
300 SEK/30 EUR per vehicle and day, half price for children with small machines. No fee for passengers.
Payment and the registration must be accepted by the secretary at the offroad area, before offroad driving on the offroad day. The fee includes offroad driving, decal and you will be included in a lottery.
Terrain
Different locations offers driving areas in a variety of shapes, sizes and difficulty. You can expect all kinds of terrain; endless forest trails, mud holes, beds of stones, slickrock, sand, grass, water, motocross tracks, etcetera. On some of the offroad areas you must stay on the trails, but they also offer free driving areas. A description of each area is found on the program together with any services or requirements drivers ought to be aware of.
Locations 2023
Private offroad areas around the southern half of Sweden;  Osby (Offroadbanan), Hästveda (Sågbacken), Hässleholm (Mölleröd) , Kristianstad (Vånga), Karlshamn (Paradise), Växjö (Bergunda), Värnamo (Ulås), Oskarshamn (Greppek), Söderköping (Olerum), Eskilstuna (Gröndal Motor Stadium), Kumla (Brändåsen), Ludvika (Björnhyttan), Säter (Aspnäs motor track), Hedemora (Hamre race track), Uppsala (Rörken), Strängnäs (Sandlycke) & Nyköping (Svansta Motor Stadium).
Rules
Driving motor vehicles in terrain is forbidden in Sweden since 1975. Drive only on designated offroad areas and trails. Absolutely no littering or polluting. Beware of fire danger, smoke with caution. Alcohol is forbidden on offroad areas. Beware of elks and deers on the roads.
The organizers take no responsibility for any damage to vehicles or participants nor for damage caused by participants towards each other or third parties. The organizers reserve the rights to alter the programme. Have fun!
Travel route
Participants drives themselves on tarmac roads along the route to the next camping/offroad area. Most vehicles leaves at 4 pm after the offroad driving, perhaps takes a stop for a swim in a lake or swings by a store before they arrive at the next camping site about 100-300 kilometres away. Check the program to find out what camping site are recommended for your destination and if it's possible to set camp on the offroad area.
Accomodation
Most offroad areas allow free camping on the offroad site the night before. Normally no water or electricity. If you arrive they day before the event navigate via the GPS coordinates found on the program or Facebook event.
There is also a recommended commercial camping with small cabins near the offroad area. Pre-booking is recommended for cabins only – not for tents! – some campings do not opens until May 15. Look at the program for more information about your destination.
Food
Participants must arrange their own food and drink. But a fast food stand will be available on most offroad areas. There are often kiosks at the camping and restaurants nearby.
Fuel
Cars and ATV/UTV ought to carry a full tank of fuel at the start of the offroad days. Sweden Offroad Tour is generally following the main roads with lots of petrol stations.
How did it all began?
How did it all start?
Motor journalist Peter Ojerskog started 1986 to work as editor-in chief for Swedish 4 Wheel Drive magazine. He discovered that the offroad meetings were hold by clubs on military areas with rough terrain and participating cars were mostly modified Jeeps and old Volvo military vehicles. Owners of original 4×4 cars could not take part, the terrain was to difficult. So in 1991 peter started offroad meetings called Terrain Touring mainly for original 4×4 cars, but modified vehicles were also welcome. Terrain Touring was also held at military areas, but with easier terrain. The meetings grow and there was up to 20 Terrain Tourings every year. Peter also hade short offroad driving instructions to help new beginners. Up to 2000 drivers have experienced this over the years. In 1995 Peter's friend Lars Carlstedt, who represented Swedish Automobile Sports Federation, SBF, suggested that Peter tied together a number of Terrain Tourings making it a tour, "a string of pearls", from the South of Sweden to the Midnight Sun in the North. So Peter arranged the first Terrain Touring Sweden – Offroad to the Midnight Sun in July 1995. 170 cars to part from half a dozen countries. Offroad driving was only every other day, with a travel day in between, making it only 7 offroad days. TTS was seen by Peter as a one-off event. ATV becoming more popular in Sweden due to cheap Chinese vehicles and allowness to drive them with driving license for car. So now also ATV and UTV were welcome on the tour increasing the number of participants.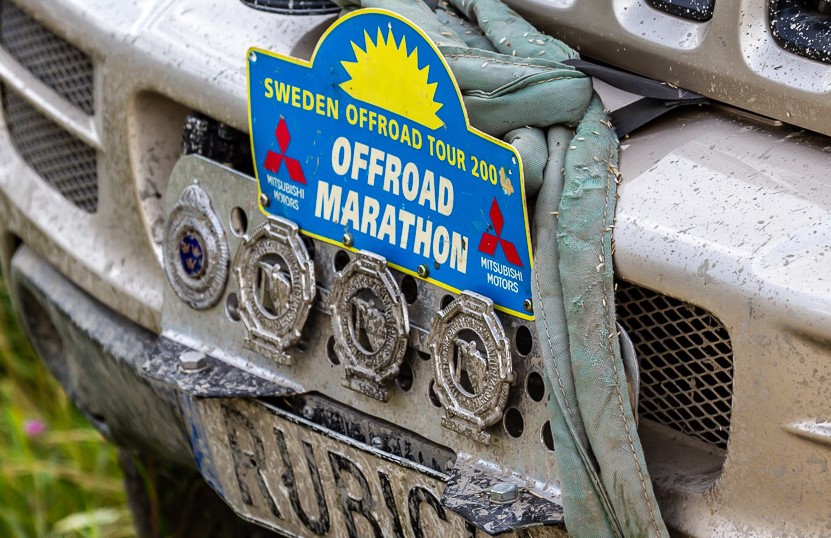 In 1996 Peter got fired from 4 Wheel Drive magazine. The owner of the mag wanted it to be more about new working vehicles like pickups and vans, while Peter wanted to stick to 4×4 cars and offroading. Peter worked as a freelance journalist with his company Ojerskog Media. But during July you do not get any jobs as everybody is on vacation. Peter needed an income for that month. So he used the idea of Terrain Touring Sweden but renamed it Sweden Offroad Tour (SOT) in 1997. Now it was offroading almost every day except for a couple of travel days in the north due to long distances. The number of participants grow all the time reaching over 400. The aim was to see the midnight sun from a treeless mountain outside Kiruna, Sweden's northernmost town.SOT got a lot of media attention. Local newspapers, regional radio and TV, motor/offroad magazines. Swedish stately television, SVT made a feature watched by 1,3 million viewers. Four Wheeler magazine, USAs oldest 4×4 mag, made six opening pages reaching one million readers. British Land Rover Owner magazine made ten pages – twice! Etcetera.
In 2001 Peter was kicked out of military terrain, the army regarding him as "to commercial". But SOT continued on private land and motor clubs offroad areas. But 2010 was the last trip to Kiruna. Too few participants and to long distances… From then on SOT makes a loop around the southern third of Sweden, where 80 percent of Swedes live, starting in Skane and ending in the Stockholm area. 2015 SOT set a new record with 500 participants. The same year 4 Wheel Drive magazine was closed, the publication sinking from 38.000 when Peter was editon-in-chief to under 4000 issues… SOT has great help from its two trusty main sponsors: Warn distributer rindab.se and Cooper Tires distributer proimp.se . Plus our media partner ATV-QUAD.se who makes three huge SOT features in the magazine every autumn . 2018 was the worst year for SOT due to extreme dryness and fire danger. The second half of the tour had to be cancelled. 2020 was the worst year for Peter, he was stuck in Thailand due to corona and Anders Forsell had to lead the tour. But 2020 also saw the arrival of Frida Ericsson as SOTs administrator of SOTs social media: facebook and instagram. Her ambitious work made SOT 2020 have almost 45 percent more participants than the previous year. Frida has also made the new design for www.swedenoffroad.com for 26th Sweden Offroad Tour 3–18.7 2021! Sweden Offroad Tour will continue in July every year drawing offroaders from all over Europe. Unique with SOT is that everyone can take part: from new beginners in original cars to hard core offroaders in modified vehicles, and go on and off the tour whenever you want. Our motto is: Maximun fun and freedom – minimum costs and bureaucrazy. During the first 25 years SOT has attracted totally 8400 4×4 cars, ATV and UTV from 20 different countries. With totally 400-500 vehicles per year SOT is Sweden's greatest offroad event. With an average of 16 offroad days SOT is probably the world's longest non-competition 4×4 happening.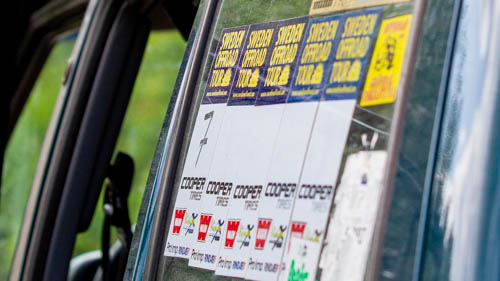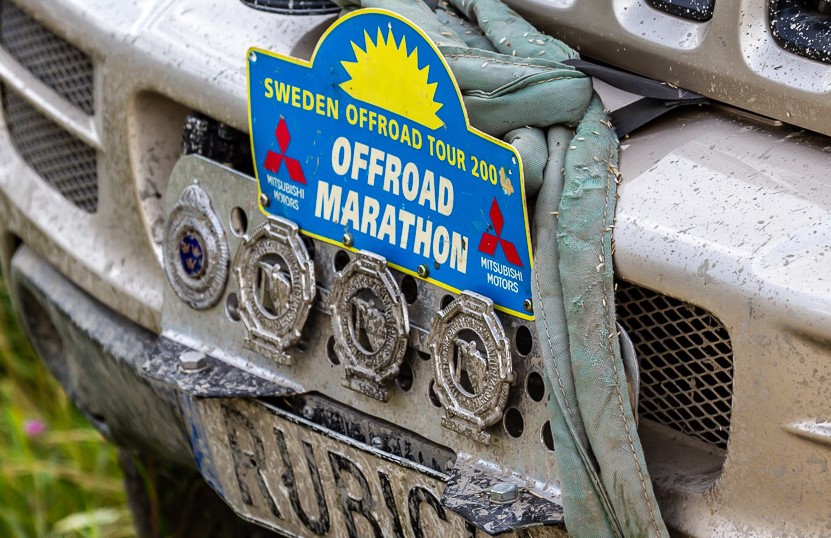 They made it all the way!
Heroes is Sweden Offroad Tour's Hall of Fame with participants who drove SOT all the way and all the days. This means about 16 offroad days and 2000 kilometres transport.
Quite an achievement!
Unfortunately we have not saved the names of our heroes from the first years.
If you drove the full tour, or know anyone who done it, including passengers, please mail: name(s), home town, country, car brand and model and year model, and year you participated, to: peter.ojerskog@swedenoffroad.com
Heroes
2023
Rikke, Tappernøje, Denmark. Toyota Land Cruiser VX 100.
Brian, Næstved, Denmark. Toyota Land Cruiser VX 80.
Max, Tingsryd, Sweden. Mitsubishi Pajero Sport 1999.
Frida & Alva, Sjöbo, Sweden. Landrover Defender, 2001/Nissan Patrol 1993.
2022
Peter with children, Sjöbo, Sweden. Landrover Defender, 2001.
Tomas & Line, Markaryd, Sweden. Jeep Cherokee 2002.
2021
Frida & Michel, Växjö, Sweden. Jeep Grand Cherokee 1997.
Jörgen & Veronica, Håbo, Sweden. Toyota Land Cruiser 1985 /Toyota Land Cruiser 1977.
Jonas with children, Värnamo, Sweden. Jeep Cherokee 1996.
Michael & Ellis, Frederikssund, Denmark. Jeep Cherokee 1998.
Fredrik & Ingrid, Torsås, Sweden. Jeep Wrangler 2014.
Sebastian, Kulmbach, Germany. Suzuki Samurai 1989.
Peter with children, Sjöbo, Sweden. Landrover Defender, 2001.
Max, Tingsryd, Sweden. Mitsubishi Pajero Sport 1999.
2019
Tommy and Sophie Kallander, Linköping, Sweden.  CF Moto Z1000 2018 UTV.
2016
Per Pettersson, Veberöd, Sweden, Jeep Wrangler 1997.
2015
Richard Wanstadius, Hässleholm, Sweden, Jeep Wrangler 2004.
Ferdinand & Jelle Tempel, Holland, Jeep Grand Cherokee.
2014
Leo Kratz, Mariannelund, Sweden, Jeep CJ/Jeep Cherokee.
2010
Simone Pahlkötter, Germany, Suzuki SJ413 1990.
2007
Klaus Lechner, Germany, Toyota HZJ 78 2007.
2002
Mats Lundquist, Stockholm, Mitsubishi Pajero Shogun
2001
Mats Lundquist, Stockholm, Mitsubishi Pajero Shogun
2000
Mats Lundquist, Stockholm, Mitsubishi Pajero Shogun
1999
Mats Lundquist, Stockholm, Mitsubishi Pajero Shogun
1998
Mats Lundquist, Stockholm, Mitsubishi Pajero Shogun
1995
Peter Öjerskog (tour leader all years except corona year 2020-2021 & 2023), Karlskrona,
Lars Carlstedt, Tomelilla, Sweden, Chevrolet S10 Blazer 1995.